Join us April 12 – 15, 2023 for the ASCE Region 6 Student Symposium.  Located in Amarillo, Texas at the Amarillo Tri State Exposition Center. Hosted by the ASCE Student Chapters of West Texas A&M University and Texas Tech University.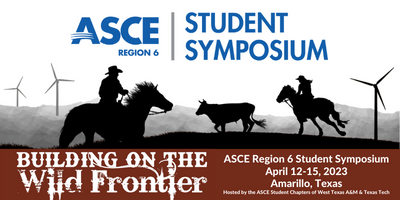 ---
September 15-17, 2023 in San Marcos, Texas - Embassy Suites by Hilton San Marcos Conference Center & Spa
Click to register               Click to become a sponsor or exhibitor
The Texas Civil Engineering Conference (CECON™) offers a snapshot of the best in Texas civil engineering, while providing unique opportunities to learn and build relationships across the state and beyond, contributing to the industry's technical diversity as never before.
Like the ancient Romans, including Archimedes—one of the great inventors of the future—engineers have long been on the forefront of inventing the future one invention at a time.
Our engineering ancestors created the world we know today, now it is our turn to create the world of tomorrow. How are we doing this???
Implementing new and cutting-edge technologies and best practices

Finding essential and emerging technologies through discovery and research
But where are we going? And what kind of future lies ahead? Well, come and explore the possibilities with us at #CECON2023 — The Future Is NOW!
TOP 4 REASONS TO ATTEND CECON:
Build relationships with Texas civil engineers & suppliers
Explore legislative & industry panels
Learn from innovative technical presentations
Earn Professional Development Hours (PDHs)